Hillwood Company History
Building a lasting legacy.
Scroll through the interactive timeline below to explore Hillwood's history.
Hillwood's legacy is rooted in its commitment to communities as well as its signature projects, partnerships and enduring company values. In founding the company, Ross Perot, Jr.—as his father before him—applied remarkable entrepreneurial vision along with a commitment to the bedrock values of Integrity, Respect, Excellence and Teamwork.
1957
IBM
H. Ross Perot joins IBM as a salesman.
1962
EDS is founded
H. Ross Perot borrows $1,000 from his wife Margot to start Electronic Data Systems, inventing the Information Technology services industry.
1968
EDS goes public
H. Ross Perot takes EDS public with an initial stock price of $16 per share. The stock rose to $160 per share in just a few days, making him one of America's richest businessmen.
1982
Spirit of Texas
Ross Perot, Jr. and Jay Coburn complete the world's first ever round-the-world 26,000-mile helicopter flight in 29 days, 3 hours and 8 minutes. Perot later joined the U.S. Air Force where he served eight years as a fighter pilot.
1985
First land deal
Ross Perot, Jr. acquires 13,000 acres of farm land north of Fort Worth for development. The project would later become known as AllianceTexas.
1987
Fort Worth Alliance Airport
FAA agrees to create the world's first industrial airport, with designation of Fort Worth Alliance Airport, a name derived from the Alliance between the City of Fort Worth, FAA and Hillwood.
1988
Founding of Hillwood Residential
Hillwood develops its first master-planned community in Fort Worth, TX, Park Glen, a 3,000 home community located in the city's first public improvement district.
1989
Fort Worth Alliance Airport Opens
Forth Worth Alliance Airport opens, launching an era of unprecedented and ongoing growth for the region eventually known as AllianceTexas. Today, AllianceTexas spans 27,000 acres, seven municipalities, five independent school districts and two counties and serves as an economic driver for North Texas. Home to more than 550 businesses including Speedway Motor Sports, Amazon, FedEx and TuSimple, AllianceTexas has generated more than 63,000 jobs.
1990
Hillwood Residential expansion
Hillwood Residential grows its master-planned community footprint by acquiring a number of distressed properties in DFW and through key acquisitions in Collin County.
1992
Perot runs for President
H. Ross Perot enters the U.S. presidential race as an independent candidate ultimately receiving the highest number of votes for any independent candidate since Teddy Roosevelt.
1992
Air Force Memorial Foundation
Ross Perot, Jr. is named Chairman of Air Force Memorial Foundation. In 2006, Perot was joined by President George W. Bush and Secretary of Defense Donald Rumsfeld at the dedication of the U.S. Air Force Memorial in Washington D.C.
1996
Perot enters Presidential race
H. Ross Perot runs for a second time for president, as a member of the Reform Party, which he helped form.
1996
Dallas Mavericks acquisition
Ross Perot, Jr. leads an investment group to acquire the Dallas Mavericks basketball team from Don Carter. In 2002, he sells his ownership in the team.
1996
Victory Park announced
The City of Dallas and Hillwood Development announce plans to re-develop a brownfield site into a vibrant new development for mixed use connecting the Cities' core districts, leading to Perot's original investment in the first parcel of land which will be eventually become Victory Park.
2000
First fiber community
Hillwood Residential opens Heritage in Fort Worth, TX, our first all fiber connected community.
2001
Victory Park opens
As a result of a second successful public/private partnership, Hillwood completes construction on the $421 million state-of-the-art sports and entertainment arena, the American Airlines Center, which helped transform downtown Dallas.
2001
First development office beyond North Texas
Hillwood's industrial development team established a Southern California office in May.
2002
Hillwood Energy
Hillwood Energy formed to begin exploration and drilling in the Barnett Shale.
2003
First industrial outside of Texas
The first 846,066 SF building at DeSoto Trade Center in Memphis was completed in December.
2004
Creation of luxury portfolio
Hillwood Residential announces its first luxury portfolio which eventually included 17 ranch sites and a 500-acre conservation area at the Bar BC Ranch in Jackson Hole, WY; its first luxury infill community Creeks of Preston Hollow; and the beachfront luxury properties in Costa Rica.
2004
Hillwood initiates investment property fund
Hillwood enters into a joint venture, making another advancement into investment property fund management.
2007
Hillwood International Energy enters Kurdistan, Iraq
Hillwood International Energy signs production sharing agreement with Kurdistan Regional Government, receiving 1,226 SQ Kilometer concession for oil exploration.
2008
Hillwood & Deloitte announce plans for Deloitte University
Hillwood and Deloitte announce Deloitte University to be created at the Circle T Ranch. Deloitte University opens in 2011 as the first corporate campus at Circle T which was followed by Charles Schwab's Texas relocation in 2017.
2008
Hillwood Residential acquires large portfolio
Hillwood Residential acquires a portfolio of 21 distressed properties from national public homebuilders and developers and expands MPC footprint to 13 U.S. markets.
2009
Perot Systems sold to Dell
Perot Systems is sold to Dell for $3.9 billion.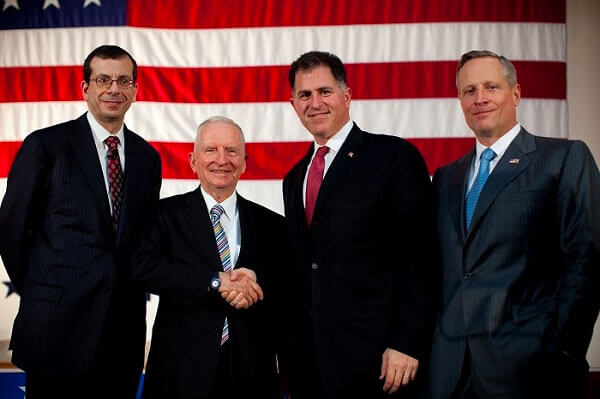 2010
Hillwood Residential becomes Hillwood Communities
Hillwood Residential announces the launch of its new brand name, Hillwood Communities, to position itself as a master-planned community developer and announces the five guiding principles for all community development.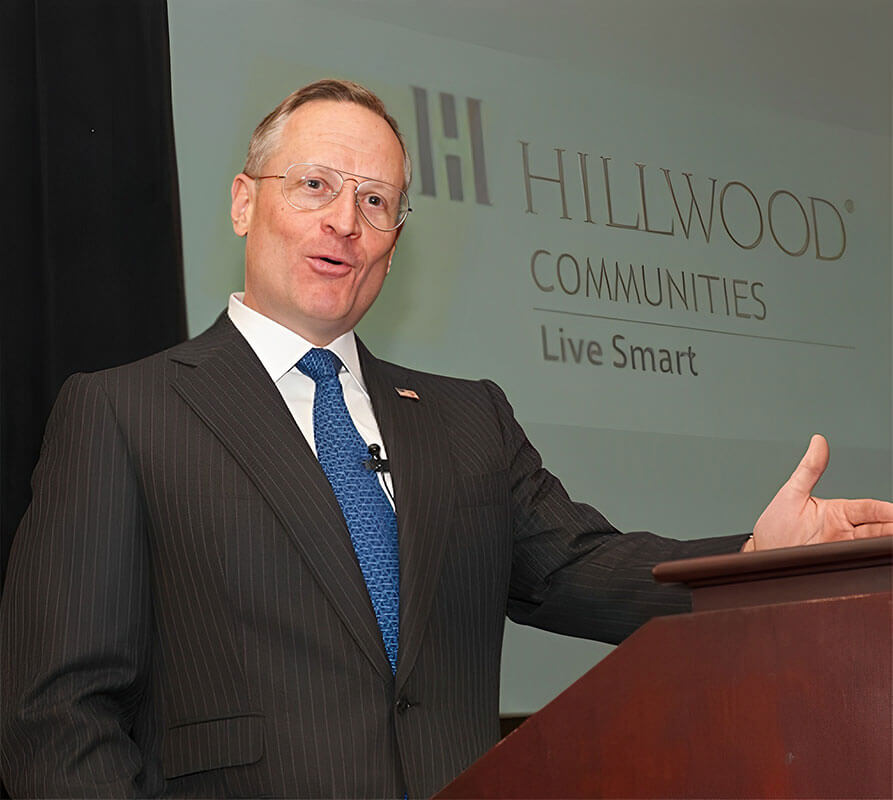 2010
Hillwood Communities enters Austin market
Hillwood Communities adds its first project, Rocky Creek, in the Austin DMA.
2012
Perot Museum of Nature and Science opens
Named in honor of Margot and H. Ross Perot, the natural history and science museum in Dallas, Texas, opens to the public. Hillwood oversaw the development of the $180 million project in downtown Dallas.
2013
Harvest community opens
Hillwood Communities opens Harvest, a 3,000-acre nationally recognized master-planned community and the first agrihood community in Texas.
2013
EY Entrepreneur of the Year
Ernst & Young presents H. Ross Perot and Ross Perot, Jr. with its inaugural Family Business Award of Excellence.
2014
Hillwood expands to Europe and Canada
Hillwood expands to Europe and Canada, opening new offices in Warsaw, Poland and Frankfurt, Germany.
2015
Facebook selects AllianceTexas for data center
Facebook breaks ground at AllianceTexas for its new $1 billion data center, the social media company's fifth in the world and the largest project of its kind in North Texas. The data center opened in 2018.
2015
Hillwood Urban launched
Hillwood launched its sixth division, Hillwood Urban, to develop large corporate and mixed-use properties in urban areas.
2015
Hillwood Communities enters Houston market
Hillwood Communities adds Pomona in Manvel, Texas, its first project in the Houston DMA.
2016
New Fort Worth Headquarters
Hillwood moves its Fort Worth offices to occupy 32,000 square feet at Hillwood Commons in Alliance Town Center.
2016
Hillwood Communities named Developer of the Year
Hillwood Communities wins the first of four Developer of the Year awards from the Dallas Builders Association.
2017
Hillwood partners to develop Frisco Station
Hillwood partners with VanTrust Real Estate and The Rudman Partnership to launch Frisco Station, an urban, mixed-use development centered on Smart, Creative, Healthy principles by breaking ground on a seven-story office building.
2017
Opening of 3000 Turtle Creek
Hillwood and the Perot companies move into its new corporate headquarters, located off Turtle Creek in Dallas, Texas.
2017
Hillwood Airways Established
Hillwood launches Hillwood Airways, a Part 121 Supplemental Air Carrier and private charter airline operating out of Fort Worth Alliance Airport.
2017
Alliance Airport runway extension
Fort Worth Alliance Airport completes long-awaited runway extension to 11,000-feet, allowing long-haul international flights without the need for refueling.
2018
Growth for Mercedes-Benz Financial Services
Mercedes-Benz Financial Services breaks ground on their third office campus at AllianceTexas, demonstrating their investment in the Alliance region and the strong relationship with Hillwood.
2019
Stanley Black and Decker expands in AllianceTexas
Stanley Black & Decker expands its U.S. manufacturing footprint with a new CRAFTSMAN manufacturing plant at AllianceTexas in addition to a new distribution facility.
2019
Amazon Air
Amazon Regional Air Hub opens at Alliance Airport.
2020
Victory Commons One construction
Hillwood Urban breaks ground on the first new office building in Victory Park in over a decade. The building, Victory Commons One, is the first class AA urban campus building to be completed in a three-building development, opening downtown in the heart of Dallas in 2021.
2020
AllianceTexas Mobility Innovation Zone (MIZ) launches
Hillwood Properties establishes the AllianceTexas Mobility Innovation Zone to facilitate innovation in surface and air mobility by offering real-world testing scenarios that are unmatched in the U.S. Several new partnerships have been launched and use cases tested to further the commercialization of autonomous mobility technology from long haul cargo to urban air transportation and last mile delivery.
2020
Hillwood Investment Properties reaches 100M SF of industrial development
Hillwood Investment Properties reaches 100M SF of industrial development in the U.S., Canada and Europe combined with the completion of Parkway West Commerce Center serving the Atlanta market.
2021
Hillwood brings the Four Seasons to Dallas
Hillwood Urban agrees to provide the land and partnered with Carpenter and Company to bring the award-winning Four Seasons Hotel to Turtle Creek in Dallas, just seconds from Hillwood's corporate campus.
2021
Frisco Station's multifamily property sells for record-setting price
Hillwood Multifamily, founded in 2008, sells Frisco Station's first multifamily property Station House.
2021
Hillwood Airways doubles in size
Hillwood Airways doubles the size of its charter fleet by adding two more Boeing 737-700 aircraft.
2021
Alliance Airport ranked as Top 25 Cargo Airports in the U.S.
Alliance Airport is ranked as one of the Top 25 Cargo Airports in the U.S., moving 1.7 billion pounds of cargo.
2021
First People's Choice Award
Hillwood Communities celebrates the first of back-to-back People's Choice Community of the Year awards from the Dallas Builders Association – Pecan Square in 2021 and Harvest in 2022.
2021
Hillwood Communities closes on largest future MPC
Hillwood Communities closes on the 3,200-acre Hunter Ranch tract in Denton to create it's largest future MPC to-date with 6,000-plus homes and 1,000-acres of park space.
2021
Bell and Hillwood partner for package delivery
In partnership with Bell, Hillwood demonstrates North Texas' first point-to-point UAS package delivery from the MIZ Flight Test Center, flying in complex airspace and landing in Pecan Square, Hillwood Communities' tech-forward, master-planned community in Northlake, Texas.
2022
Hillwood Investment Properties sells global industrial portfolio for $2.1B
Hillwood Investment Properties sells a 17-million-square-foot global industrial portfolio to CBRE for $2.1B.
2022
Hillwood announces The Campuses at Circle T
Hillwood announces plans for The Campuses at Circle T, which will ultimately encompass six unique corporate campuses built within the heart of the historic Circle T Ranch.
2022
AllianceTexas surpasses $100B in economic impact
AllianceTexas surpasses $100 billion in economic impact for the North Texas region with over 500 companies and 53 million square feet developed to-date, while generating over 62,000 direct jobs.